Description
HPE OfficeConnect 1420 8G Switch (Local Warranty in Malaysia)
Product overview
The HPE OfficeConnect 1420 Switch Series consists of unmanaged Gigabit Ethernet switches, for small businesses and others looking for plug-and-play basic Layer 2 connectivity fortheir network, including low-cost PoE+ and 10-Gigabit uplink models.
The 1420 Switch Series includes nine Gigabit switches. All have 10/100/1000 ports for affordable Gigabit connections using copper Category 5 cabling. There is a model with 16 RJ-45 ports. There is a 24-port model with two SFP Gigabit ports, ideal where long distances require fiber-based connections. Another 24-port model supports IEEE 802.3at PoE+ on12 of its ports, able to forward up to 30 W power on these ports to power access points, IPphones, IP cameras, and other PoE-enabled devices. For cost-effective high-speed fiber-based server connections, there is a 24-port 10/100/1000 switch with two SFP+ 10-Gigabit ports. Lastly, there is a model simply with a 24-port 10/100/1000 layout.
HPE OfficeConnect 1420 switches have Quality of Service (QoS) support and IEEE 802.3x flow control features that improve network efficiency.
Simplified plug-and-play convenience is supported by features such as auto-MDIX and auto-speed negotiation. Hewlett Packard Enterprise has innovated and combined the latest advances in silicon technology to bring you some of the most power-efficient switches. All models support the Energy Efficient Ethernet IEEE 802.3az standard, as well as auto power-down mode on idle ports and power saving on short-distance cables. With their fanless silent operation, these switches are ideal for office deployment. HPE OfficeConnect 1420 switches come with a Limited Lifetime Warranty.
Unmanaged plug-and-play Gigabit Ethernet switching
Green features for low power consumption
Fanless design for silent operation
Quality of Service capabilities for improved network efficiency
Limited Lifetime Warranty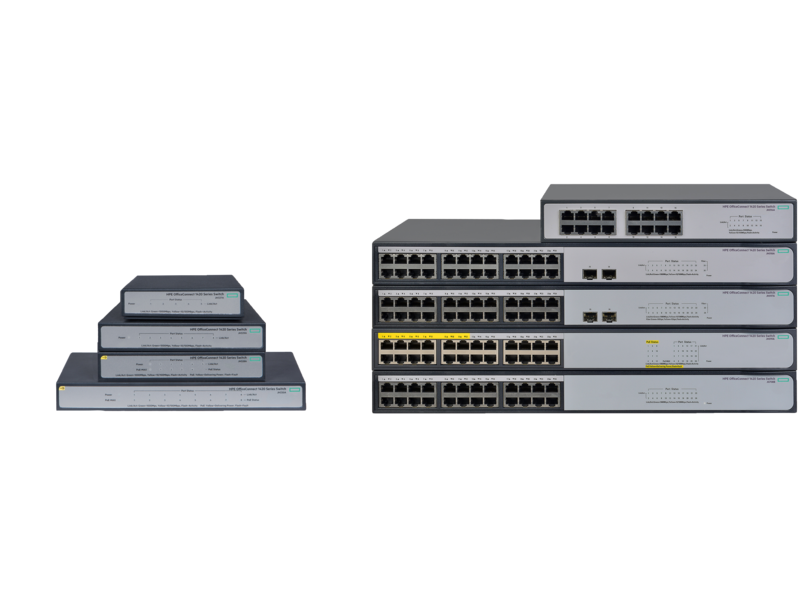 Ease of use
UnmanagedProvides plug-and-play simplicity
Auto-speed negotiationSelects individual port speed automatically, depending on client capabilities; removing the need for manual intervention enables simple plug-and-play operation
Comprehensive LED display with per-port indicatorsProvides an at-a-glance view of the status, activity, speed, and full-duplex operation of   the switches
Flow controlHelps ensure reliable communications during full-duplex operation• HPE/IEEE Auto-MDIXAutomatically adjusts for straight-through or crossover cables on all RJ-45 ports
Connectivity
Gigabit Ethernet 10/100/1000 connectivity—high speed Ethernet connections over highly affordable copper Category 5 cabling
10-Gigabit fiber connectivity Future-proof 10-Gigabit technology allows high-speed fiber connection to servers or other switches with connection flexibility using optional SFP+ transceivers (Model: JH018A)
IEEE 802.3at Power over Ethernet (PoE+)Provides up to 30 W per port, which allows support of the latest PoE+ capable devices such as IP phones, wireless Access Points, and security cameras, as well as any IEEE 802.3af compliant end device; reduces the cost of additional electrical cabling and circuits that would otherwise be necessary in IP phone and WLAN deployments (Models: JH019A, JH328A, JH330A)
Performance
Energy Efficient Ethernet support

Supports new IEEE 802.3az standard; and allows lower power consumption, when operated

with IEEE-compliant client devices

Half-/full-duplex auto-negotiating capability on every port doubles the throughput

of every port

Jumbo frame support

Allows frames up to 9,216 bytes to be switched through the network
Flexibility
Fanless design

Enables quiet operation for deployment in open spaces

Internal power supply

Delivers operational convenience and an environment suitable for business operations
Quality of Service (QoS)
IEEE 802.1p prioritizationDelivers data to devices, based on the priority and type of traffic
DiffServ Code Point (DSCP) support Allows real-time traffic prioritization, based on Layer 3 TOS/DSCP parameters
Warranty and support
Limited Lifetime Warranty

See

www.hpe.com/officeconnect/support

for warranty and support information included

with your product purchase.
Specifications
JH329A Specifications

Type

HPE Officeconnect 1420 8G Switch

I/O ports and slots

· 8 RJ-45 autosensing 10/100/1000 ports (IEEE 802.3 type 10BASE-T, IEEE 802.3u type 100BASE-TX, IEEE 802.3ab type 1000BASE-T)

· Media type: Auto-MDIX

· Duplex: 10BASE-T/100BASE-TX: half or full

  1000BASE-T: full only supports a maximum of 8 autosensing 10/100/1000 port

Memory and processor

Packet buffer size: 1.5Mb

Mounting and enclosure

Desktop (rear port)

100Mb latency

< 3 μs

1000Mb latency

< 2.6 μs

10 Gb/s Latency

N/A

Throughput

up to 11.8 Mp/s

Switching capacity

16 Gb/s

MAC address table size

4096 entries

Reliability: MTBF (years)

N/A

Dimensions

2.69 x 15.77 x 10.49 cm ( 1.06 x 6.21 x 4.13 in)

Weight

0.5 kg ( 1.10 lb)

Frequency

50/60 Hz

Maximum heat dissipation

N/A

Voltage

100 - 240 V ac (rated)

Current

N/A

Maximum power rating

4.5 W4

PoE power

N/A

Operating temperature

0°C to 40°C(32°F to 104°F)

Operating relative humidity

5% to 95%, non condensing

Non operating/Storage temperature

-40°C to 70°C(-40°F to 158°F)

Non operating/Storage relative humidity

5% to 95%, non condensing

Altitude

N/A

Acoustic

Fanless

Safety

EN 60950/IEC 60950

UL 60950

IEC 60950-1

EN 60950-1

CAN/CSA-C22.2 No. 60950-1-03

Emissions

FCC Rules Part 15, Subpart B Class A

Generic

EN 55022 CISPR 22

EN

EN 55024, CISPR 24

ESD

IEC 61000-4-2

Radiated

IEC 61000-4-3

EFT/Burst

IEC 61000-4-4

Surge

IEC 61000-4-5

Conducted

IEC 61000-4-6

Power frequency magnetic field

IEC 61000-4-8

Voltage dips and interruptions

IEC 61000-4-11

Harmonics

IEC 61000-3-2

Flicker

IEC 61000-3-3

Other Model For Unmanaged Plug & Play Series
More Series For HPE Switch
Aruba Series Switch
Interested to know we can help you to leverage on IT to improve your business productivity, scalability and profitability?

Contact us now