Description
HPE OfficeConnect 1405 5G v3 Switch (Local Warranty in Malaysia)

The HPE OfficeConnect 1405 Switch Series is a plug-and-play unmanaged fixed-port Layer 2 switch designed for small offices. These switches are preconfigured with connections using low-cost Ethernet copper cabling. They are Class B certified, energy efficient and quiet. They support administration-friendly features such as auto-negotiation. Designed for high reliability, long life, and low power consumption, they are ideal for businesses concerned with total cost of ownership.
What's New
New entry level 5G- and 8G- port switches for small offices.
Plug and play, no configuration required.
Quality of Service (QoS) and flow control for improved network efficiency.
Energy Efficient Ethernet for low power consumption.
3 year warranty with 24X7 phone support for 90 days.
Ease of Use
The HPE OfficeConnect 1405 Switch Series offers unmanaged plug-and-play simplicity.
A comprehensive LED display with per-port indicators provides an at-a-glance view of status, activity, speed, and full duplex operation.
Flow control helps to provide reliable communications during full-duplex operation
Connectivity and Performance
The HPE OfficeConnect 1405 Switch Series with Auto-MDIX automatically adjusts to straight-through or crossover cables on all 10/100 and 10/100/1000 ports.
Jumbo packet support for Gigabit Ethernet ports only offers up to 9216-byte frame size to improve performance of larger data transfers.
Half/Full duplex auto-negotiating capability on every port doubles the throughput of every port.
Quality of Service (QoS)
The HPE OfficeConnect 1405 Switch Series has IEEE 802.1p prioritization delivering data to devices based on priority and type of traffic.
The switches support energy efficient Ethernet.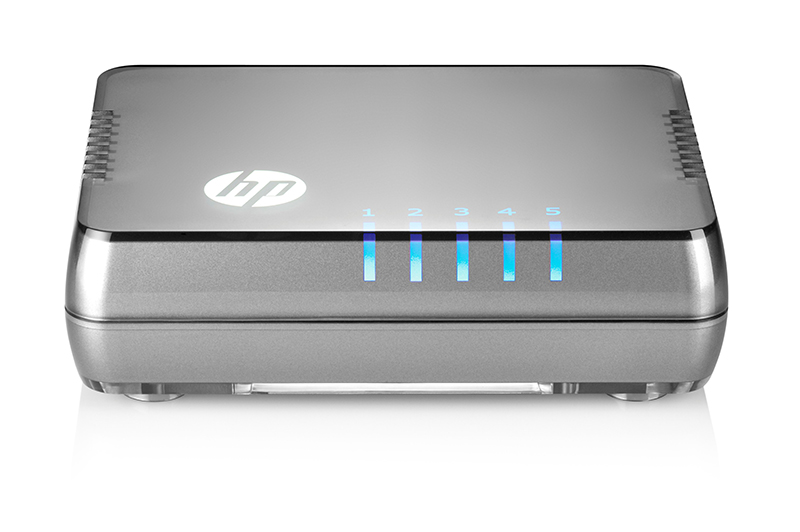 Specifications
Product Differentiator (long)Great desktop 5-port Gigabit switch for your office or home network. This model has 5x 10/100/1000 ports with an external power adapter.
Power Consumption Description3 W (maximum)
Input Voltage100 - 240 VAC, rated
External I/O Ports(5) RJ-45 autosensing 10/100/1000 ports
Latency100 Mb Latency: < 3 µs 1000 Mb Latency: < 2.6 µs
Routing/switching Capacity10 Gbps
Throughputup to 7.4 Mpps
Memory and ProcessorPacket buffer size: 1 Mb
Weight (imperial)0.4 lb
Weight (metric)0.18 kg
Product Dimensions (imperial)4.5 x 3.6 x 1.4 in
Product Dimensions (metric)11.43 x 9.14 x 3.56 cm
Other Model For Unmanaged Plug & Play Series
More Series For HPE Switch
Aruba Series Switch