Description
HPE OfficeConnect 1920S 24G 2SFP PoE+ 370W Swch (Local Warranty in Malaysia)

Product overview
The HPE OfficeConnect 1920S Switch Series consists of advanced smart-managed fixed-configuration Gigabit switches designed for small businesses in an easy-to-administer solution.
The series consists of seven switches including 8- 24- and 48-port Gigabit Ethernet switches and 8-, 24- and 48-port PoE+ models of which half the ports are POE+ capable. An additional 24-port PoE+ model is available that provides PoE+ on all 24-ports. All ports provide non-blocking Gigabit performance. Some models include SFP ports for fiber connectivity and the 8-, 24- and 48-port non PoE+ models are fanless, making them ideal for office deployments. All HPE OfficeConnect 1920S Switches support flexible installation options, including mounting on wall, under table, or on desktop. The 8-port Gigabit Ethernet model can be powered by an upstream Power over Ethernet switch for environments where no line power is available.
The series is part of the OfficeConnect portfolio of Hewlett Packard Enterprise small business networking products. These switches provide a great value, and includes features to satisfy even the most advanced small business networks. Customizable features include basic Layer 2 features like VLANs and link aggregation, as well as advanced features such as Layer 3 static routing, IPv4 and IPv6 Host mode, ACLs, and Spanning Tree Protocols. HPE OfficeConnect 1920S Switch Series includes a Limited Lifetime Warranty.
Features and benefits
Management - Allows for easy management of the switch—even by nontechnical users—through an intuitive Web GUI; supports HTTP and HTTP Secure (HTTPS).
SNMPv1, v2c, and v3 - Facilitate management of the switch, as the device can be discovered and monitored from an SNMP management station.
Complete session logging - Provides detailed information for problem identification and resolution.
Port mirroring - Enables traffic on a port or VLAN to be simultaneously sent to a network analyzer for monitoring.
Dual flash images - Provide independent primary and secondary operating system files for backup while upgrading
Security - Enables network traffic filtering by creating an ACL, add rules and match criteria to an ACL, and apply the ACL to permit or deny on one or more interfaces or a VLAN. Up to 50 inbound entries may be configured based on IPv4 source and destination IP and MAC address, Layer 4 ports and protocol type of the IPv4 packet
Performance - Half-and full-duplex auto-negotiating capability on every port doubles the throughput of every port.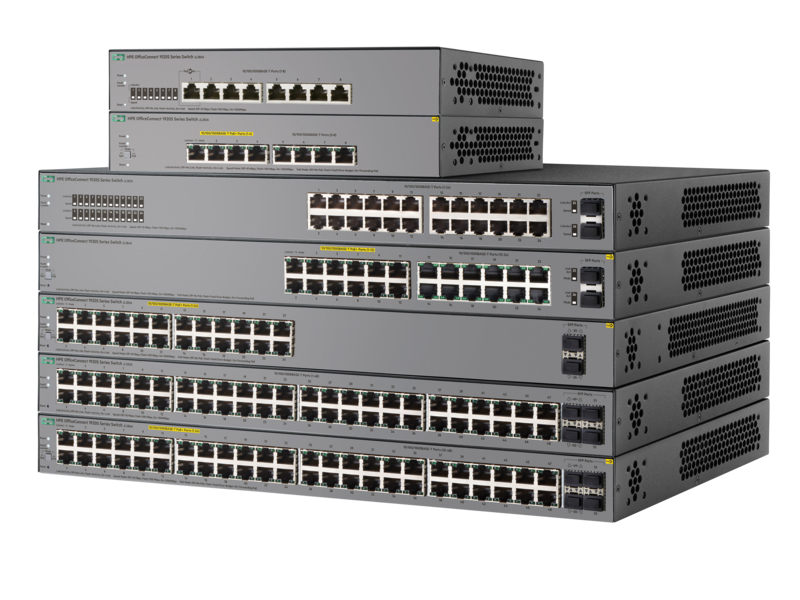 Specifications
JL385A Specification

Product Description

HPE OfficeConnect 1920S 24G 2SFP PoE+ 370W Switch

Product Dimensions (metric)

44.25 x 24.61 x 4.39 cm

PoE Capability

370W PoE+

Power Consumption Description

435W (maximum), 34.2W (idle)

Product Differentiator (long)

Advanced smart managed 24-port Gigabit PoE+ high-power budget switch from our most popular switch series for small businesses. This model has 24x 10/100/1000 PoE/PoE+ ports as well as 2 SFP ports. Power over Ethernet budget is 370 Watts.

External I/O Ports

(24) RJ-45 auto-negotiating 10/100/1000 PoE+ ports

(12) RJ-45 auto-negotiating 10/100/1000 ports

(2) SFP 100/1000 Mbps ports

Routing/switching Capacity

52 Gbps

Management Features

Web browser SNMP IEEE 802.3 Ethernet mib

Throughput

up to 77.3 Mpps

Input Voltage

100 - 240 VAC

Product Dimensions (imperial)

17.42 x 12.7 x 1.73 in
Other Model For

L2 Plus Smart Web Managed



More Series For HPE Switch
Aruba Series Switch