Description
Qnap Nas TS-673-4G ( Local Warranty in Malaysia )
Affordable high-end AMD RX-421ND quad-core NAS with PCIe slots for adding M.2 SSD, 10GbE connectivity or a graphics card
The TS-673 is powered by a high-performance and energy-efficient AMD R-Series CPU and provides two PCIe slots for greater functionality. You can install a QNAP QM2 expansion card to add M.2 SSD caching/10GbE connectivity; a compatible wireless card to use the TS-673 as a wireless access point; and an entry-level graphics card to boost system performance for 4K video performance. The TS-673 allows you to flexibly deploy a wide range of applications with a more affordable budget.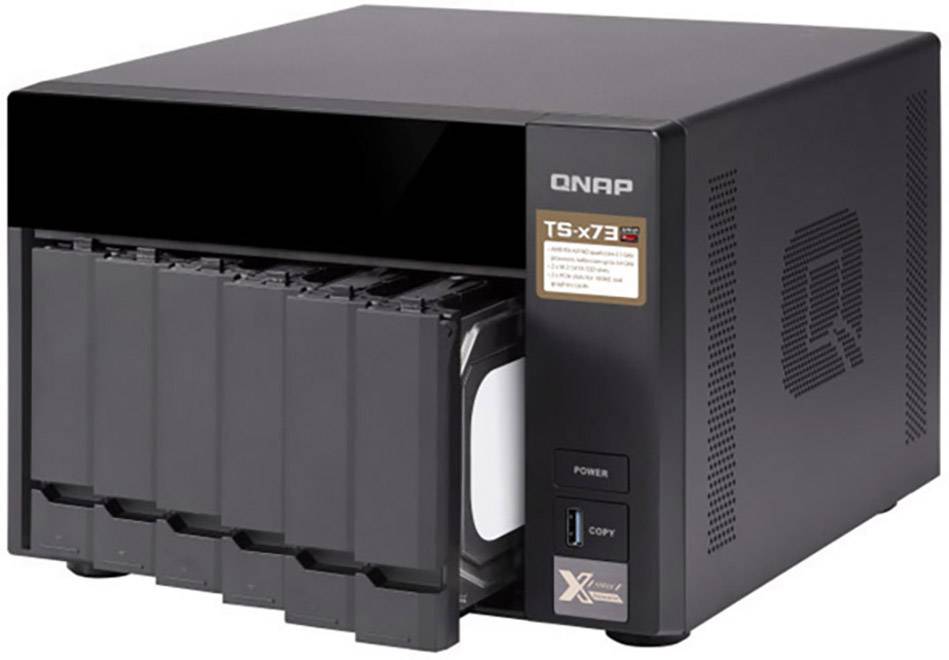 Greater NAS potential with two PCIe slots
The TS-673 features two PCIe (Gen3 x4) slots, allowing for installing single/dual-port 10GbE NICs to accelerate applications that demand higher bandwidth such as virtualization, media workflows, and backup/restoration tasks for an ever-growing amount of data; or a USB 3.2 Gen 2 (10Gb/s) expansion card for transferring large media files to and from USB storage. You can also install QM2 cards, wireless network cards or an entry-level graphics card to extend NAS functionality.
Note: USB 3.2 Gen 2 performance may vary depending on hardware/software limitations and usage environment.


AMD R-Series quad-core CPU
Equipped with a next-gen AMD R-Series RX-421ND quad-core 2.1 GHz CPU (Turbo Core up to 3.4 GHz) with up to 64GB dual-channel DDR4 RAM, the TS-673 enables lightning-fast multi-tasking with low power consumption for up to 2190 MB/s throughput with a 10GbE configuration. With a hardware-accelerated AES-NI encryption engine, the TS-673 also provides unmatched encryption performance in its class (up to 2169 MB/s with AES 256-bit full NAS volume encryption) to boost system performance while ensuring the safety of sensitive business data stored on the NAS.
SSD caching and 10GbE connectivity
The TS-673 supports the innovative QM2 PCIe card that allows for adding up to two M.2 SSDs. You can configure SSD caching, or create a RAID 5 tiered storage along with the two M.2 SSDs in the NAS*. As these M.2 SSDs will not occupy any 3.5-inch drive bays, the QM2 card allows you to maximize both your storage capacity and performance. There are also QM2 cards that include 10GbE 10GBASE-T connectivity to provide SSD caching with high-speed network connectivity on a single card.

Optimal computing power and 4K video playback with a graphics card
The TS-673 allows for installing a low-power graphics card (powered solely by the PCIe slot) to boost system performance. With a graphics card installed, the TS-673 also enables smoother video editing workflows and supports 4K UHD transcoding to deliver an exceptional multimedia experience. You can also use the QNAP remote control (sold separately) or the Qremote mobile app to use the NAS as a home theater PC.

Note:
1. Supported video formats depend on the hardware and software specifications of the devices. Playback capability and quality may vary due to factors including the original file formats/quality, hardware and software limitations, and output devices.
2. Consult the QNAP Compatibility List before purchasing the graphics card.
3. Graphics card will be supported in QTS 4.3.5 (or later) version.
4. One PCIe Slot size is 170.2x111.15x14.5 mm, and a dual-slot expansion card will take up the space of two PCIe slots.


Learn More: Qremote
QTS – The intelligent, intuitive and creative NAS operating system
With modularized multiple applications and functions, QTS enhances management efficiency, personal productivity, multimedia, and much more, making your NAS experience easier, efficient, and more flexible! The built-in App Center with hundreds of install-on-demand apps realizes near-limitless NAS functionality. The new Qboost provides a NAS optimization tool that helps accelerate applications, recover system resources, and schedule applications. QTS breaks the barriers of devices, platforms, and geography to bring you optimized cloud experiences and incorporates advanced features.
Learn More:QTS,App Center
Hardware Specification
CPU

2.1 GHz AMD R-Series RX-421ND Quad-Core (64-bit, up to 3.4 GHz)

Encryption Engine

AES-NI

System Memory

4 GB of DDR4 RAM (2 x 2 GB)

Maximum Memory

64 GB (4 x 16 GB)

Memory Slots
4 x SO-DIMM DDR4

Note: For dual-or quad-DIMM configurations, you must use a pair of identical DDR4 modules
Flash Memory

512 MB DOM

Drive Bays

6 x SATA III 6 Gb/s

Drive Compatibility
3.5" SATA hard disk drives
2.5" SATA hard disk drives
2.5" SATA solid-state drives
M.2 SSD Slots
2 x M.2 2260/2280 SATA III 6 Gb/s SSDs (sold separately)

Note: M.2 SSD operations can easily generate excessive heat. It is recommended to install a heatsink (from QNAP or a third-party provider) on the M.2 SSD
SSD Cache Acceleration Support
Drive bays 1 to 6
M.2 slots 1 to 2
Optional: M.2 SSD using QNAP QM2 PCIe expansion card
Hot-Swappable

Yes, except M.2 SSDs, SSD cache drives, and SSDs using PCIe expansion slots

Gigabit Ethernet Port

4 x RJ45 Gigabit LAN ports

PCIe Slot
2 x PCIe 3.0 x4 slots

Note: Supports a low-profile 10GbE LAN card, 10 Gb/s USB 3.1 Gen 2 expansion card, QM2 card, PCIe wireless network card, or a bus-powered graphics card
USB Ports

4 x USB 3.0 Type-A ports (1 front, 3 rear)

Audio
2 x 3.5 mm dynamic microphone jacks
1 x 3.5 mm line-out jack
1 x speaker

Note: You cannot use the speakers and the line-out jack simultaneously
USB One Touch Copy

Front: USB 3.0

IR Sensor

Optional QNAP RM-IR004 remote control (MCE compatible)

Form Factor

Tower

Power Consumption
HDD Standby: 35.11 W
In Operation: 63.69 W
Sound Level

Sound Pressure (LpAm): 23 dBA

Power Supply Unit

250 W, 100 to 240 VAC, 50/60 Hz

Fan
System: 2 x 90 mm
CPU: 1 x 60 mm
Operating Temperature

32 to 104°F / 0 to 40°C

Relative Humidity

5~95% RH non-condensing, wet bulb: 81°F / 27°C

Security Slot

Kensington security slot

Dimensions

7.41 x 10.40 x 11.01" / 188.21 x 264.16 x 279.65 mm

Weight

12.28 lb / 5.57 kg
Data Sheet

Video Review

Other Model
Other Brand

You may also visit our online shop www.winpro.com.my
PS : Price above not included harddisk
       All Store B2B order 3-4 weeks