Description
APC Easy UPS On-Line, 2000VA, Lithium-ion, Rack/Tower 4U, 230V (SRVL2KRILRK)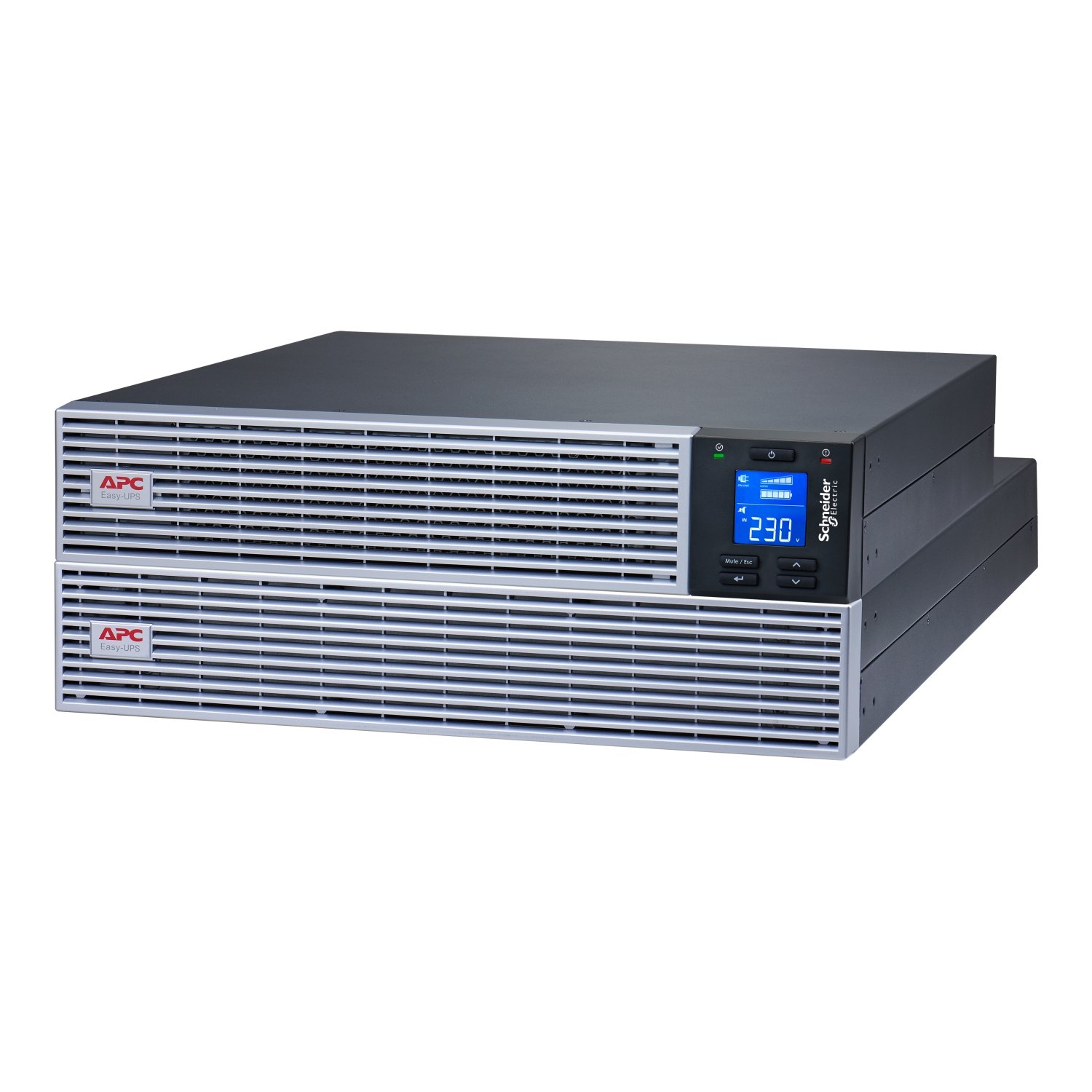 Why do you need Uninterruptible Power Supply (UPS)?
An Uninterruptible Power Supply (UPS) helps ensure that businesses have power protection for critical applications. A UPS provides protection for these critical systems in the event of a power disruption, whether it's a prolonged outage or just a blip that can nonetheless damage sensitive machines such as computers and cash registers. The UPS helps provide backup power that can keep critical equipment up and running during relatively short outages. It allows you to safely power them down in the event of a longer outage and are a critical component of any business continuity plan.
Network Availability
Ability to ride out all disruptions rather than shutdown
Hardware Protection
Avoid loss or corruption caused by power issues
Data Protection
Prevent damage caused by EMI/RFI interference, and other power issues
Energy Efficiency
Lower operating costs and a smaller carbon footprint
Avoid High Cost of Downtime
+$25,000 on average per hour for small business
+$540,000 on average per hour for medium & large enterprise
What is Easy UPS?
APC Easy UPS are quality products for price-conscious customers, helping to provide power protection and backup in unstable power conditions, and consistent and reliable connectivity at critical moments. 
That's Certainty in a Connected World.
The key benefits of owning an APC Easy UPS:
• Provide real output power to support equipment during outages
• Pure sine wave output (SMV, SRV, and SRVL models) provides clean power to sensitive equipments
• Automatic Voltage Regulation (AVR) corrects utility voltage dips and surges
• Peace of mind from the trusted brand in power protection
SPECIFICATION
Main Input Voltage

230 V

Other Input Voltage

230 V

Main Output Voltage

230 V

Other Output Voltage
220 V
240 V
Rated power in W

1800 W

Rated power in VA

2000 VA

Input Connection Type

IEC 60320 C20

output connection type

6 IEC 60320 C13

Number of rack unit

4U

Provided equipment
Basic UPS signalling RS-232 cable
USB cable
RJ45 cable
RJ11 cable
C13-C14 power cord
IEC-C20 - Shuko input power cord
Rack mounting brackets
Stabilization feet
User manual
Safety guide
Battery cable
Batteries & Runtime
Run Time

View Runtime Graph

Efficiency

View Efficiency Graph

battery type

Li-Ion (Lithium-Ion)

battery voltage

48 V

Number of battery filled slots

0

Number of battery free slots

0

Battery recharge time

4.8 h

Battery life

8…10 year(s)

Battery charger power

480 W

Battery option
SRVL48RMBP2U 1 5280 VAh
SRVL48RMBP2U 2 8064 VAh
General

| | |
| --- | --- |
| Number of power module filled slots | 0 |
| Number of power module free slots | 0 |
| Redundant | No |
Physical

| | |
| --- | --- |
| Colour | Black with silver front bezel |
| Height | 17.2 cm |
| Width | 43.8 cm |
| Depth | 61.6 cm |
| Net weight | 37.1 kg |
| USB compatible | Yes |
| Mounting position | Horizontal and vertical |
Input
Input voltage limits
160...300 V full load
110...300 V 60 % load
Network frequency

40...70 Hz auto-sensing
Output

| | |
| --- | --- |
| Maximum configurable power in VA | 2000 VA |
| Maximum configurable power in W | 1800 W |
| Output frequency | 50/60 Hz +/- 3 Hz sync to mains |
| UPS type | Double conversion online |
| Wave type | Sine wave |
| Efficiency | 90 % (full load) |
| bypass type | Internal bypass (automatic and manual) |
| Crest factor | 3 : 1 |
Conformance
product certifications
CB
CE
RCM
EAC
TISI
UKCA
KC
UN 38.3
IEC 62619
Environmental

| | |
| --- | --- |
| Ambient air temperature for operation | 0…40 °C |
| Relative humidity | 0…95 % non-condensing |
| Operating altitude | 0...3000 m |
| Ambient air temperature for storage | -20…50 °C |
| Storage Relative Humidity | 0…95 % non-condensing |
| Storage altitude | 0…15000 m |
| Acoustic level | 50 dBA |
| Heat dissipation | 683 Btu/h |
| IP degree of protection | IP20 |
Communications & Management

| | |
| --- | --- |
| Alarm | Alarm when on battery : distinctive low battery alarm : overload continuous tone alarm |
| Emergency power off | Yes |
| control panel | Multifunction LCD status and control console |
Surge Protection and Filtering

| | |
| --- | --- |
| Surge energy rate | 945 J |
Packing Units

| | |
| --- | --- |
| Unit Type of Package 1 | PCE |
| Number of Units in Package 1 | 1 |
| Package 1 Height | 48 cm |
| Package 1 Width | 8 cm |
| Package 1 Length | 60 cm |
| Package 1 Weight | 50.15 kg |
Contractual warranty

| | |
| --- | --- |
| Warranty | 3 years UPS repair or replace; 5 years battery repair or replace |