Description
HP Z40c G3 WUHD Curved Display (3A6F7AA#AB4)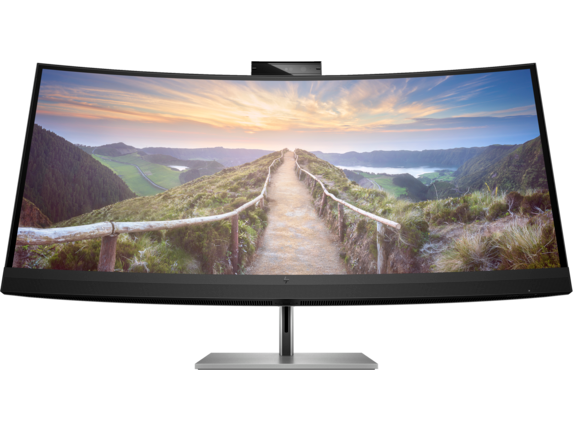 Stay focused and productive by immersing yourself in the brilliant, expansive views of the HP Z40c G3 Curved Display. Experience extraordinary, true-to-life color and see all of your projects at once, in stunning detail, on an Ultrawide display with 5K:2K resolution. Look and sound like you do in real life on calls with an integrated 4K webcam and high fidelity speakers.
Improve productivity with easy multitasking on a 40-inch diagonal 5K:2K-resolution ultrawide screen that can be segmented into the equivalent of four 20-inch monitors for maximum viewing and minimal toggling.
With a 40-inch diagonal 5K:2K-resolution screen, size versus resolution trade offs are over. Multitask with ease and improve productivity with an Ultrawide screen that can be segmented into the equivalent of four 20-inch monitors so users can view all of their projects, more lines of code, and bigger spreadsheets with minimal toggling and scrolling.
1.07 Billion Colors Realistically Displayed[2].
Remove the barriers between you and your screen with vivid, life-like and always accurate colors and details. Factory-calibrated for color accuracy out-of-the-box, this monitor delivers 100% sRGB and 98% DCI-P3 wide color gamuts so colors like firetruck red match what you see in real life .
A Lifelike Conferencing Experience.
The Zoom Certified Z40c Monitor blurs the line between virtual conference calls and reality. Look and sound true-to-life on video with an integrated pop up and tiltable 4K webcam that puts your face in focus and delivers a clear image in any lighting, while built-in dual noise cancelling microphones and room filling speakers make any space your own private office.
Total Control. Totally Connected.
Streamline your work by connecting and viewing content from two PCs with superfast Thunderbolt™ 3 connections that also deliver up to 165W of power—enough to charge two PCs at once. Integrated HP Device Bridge 2.0 lets you control two Windows® and/or Mac® devices from the same keyboard and mouse while maintaining network security with controlled file sharing.
TECHNICAL DETAILS
 Anti-glare; Height adjustable; Integrated speakers; Curved display; Webcam; HP Eye Ease; Integrated microphone
 Exit; Information; Language; Management; Power control; Input control; Menu control; Brightness+; Image; Color; Picture-by-Picture
 640 x 480; 720 x 400; 800 x 600; 1024 x 768; 1280 x 800; 1280 x 1024; 1440 x 900; 1600 x 900; 1600 x 1200; 1680 x 1050; 1920 x 1080; 1920 x 1200; 2560 x 1440; 2560 x 1600; 3840 x 2160; 4096 x 2160; 5120 x 2160
 14ms GtG (with overdrive)
 4 SuperSpeed USB Type-A 5Gbps signaling rate
 2 Thunderbolt™ 3 (40Gbps signaling rate) with SuperSpeed USB Type-C® 5Gbps signaling rate (Up to 100W USB Power Delivery, Alt Mode DisplayPort™ 1.4)
 1 RJ-45 (10/100/1000 Mbps)
 Yes, DisplayPort™ and HDMI
 85% ITE-derived closed loop plastic; Low Halogen; Outside box and corrugated cushions are 100% sustainably sourced and recyclable; Designed with recycled metals; Contains Ocean-Bound plastic
 100 mm x 100 mm (bracket included)
 3 year (3/3/0) limited warranty includes 3 years of parts and labor. No on-site repair. Terms and conditions vary by country. Certain restrictions and exclusions apply.
 Monitor; DisplayPort™ cable; HDMI cable; VESA Mount adapter; Warranty card; QSP; AC power cord; Color calibration report; Thunderbolt™ cable