Description
POLY STUDIO

Meet Poly Studio, the premium USB video bar built for small rooms and big ideas.
Delivering the best audio quality in its class, it blocks distracting sounds that can
interrupt meetings. Teams on both ends of the call catch every word. With group
framing and automatic speaker tracking, the connection feels personal. They see
all the important details, too—right down to body language and facial expressions.
Easy to manage? Of course. The cloud-based management tools let IT push software
updates and make settings changes without ever leaving their desk. Poly Studio.
The shortcut to better huddle room collaboration.

• Acoustic Fence keeps voices outside the room from interrupting your calls
• Up to 3.7 m/12 ft microphone pickup range
• Smart-camera experiences are built in—no drivers or software needed
• Centralized management enables high-scale deployments
• Works with nearly any video platform

RAISE THE BAR
Whether you want to make a persuasive point or a lasting connection, you need technology that lets you interact naturally. So put the days of frustrating video-conferencing experiences behind you. Now you can see and hear everyone clearly, and converse naturally, with Poly Studio. Simple USB connectivity gets up and running fast, keeps the technology in the background and you in the foreground, and provides a business-class solution to everybody working in a huddle room. It's time to raise the bar for video conferencing—it's time for Poly Studio.
BENEFITS
You've never heard a USB video bar sound this good—Poly Studio has the absolute best audio quality and voice clarity in its class
Distracting sounds are eliminated by our patented Poly NoiseBlockAI technology—and this is the only USB video bar that does it

Be more productive on both ends of your video conference with a smart camera that automatically frames the room or tracks the person speaking for deeper engagement

Eliminate "sneakernet" with centralized management, enabling high-scale deployments without added burden on IT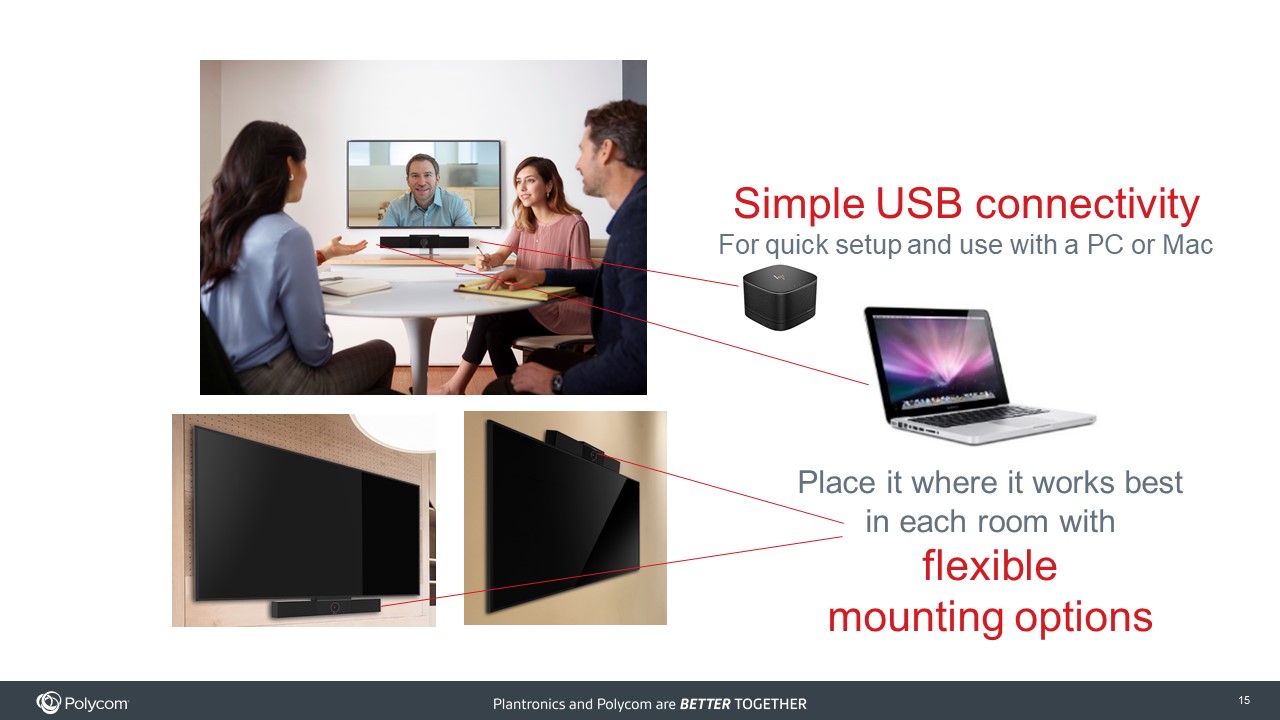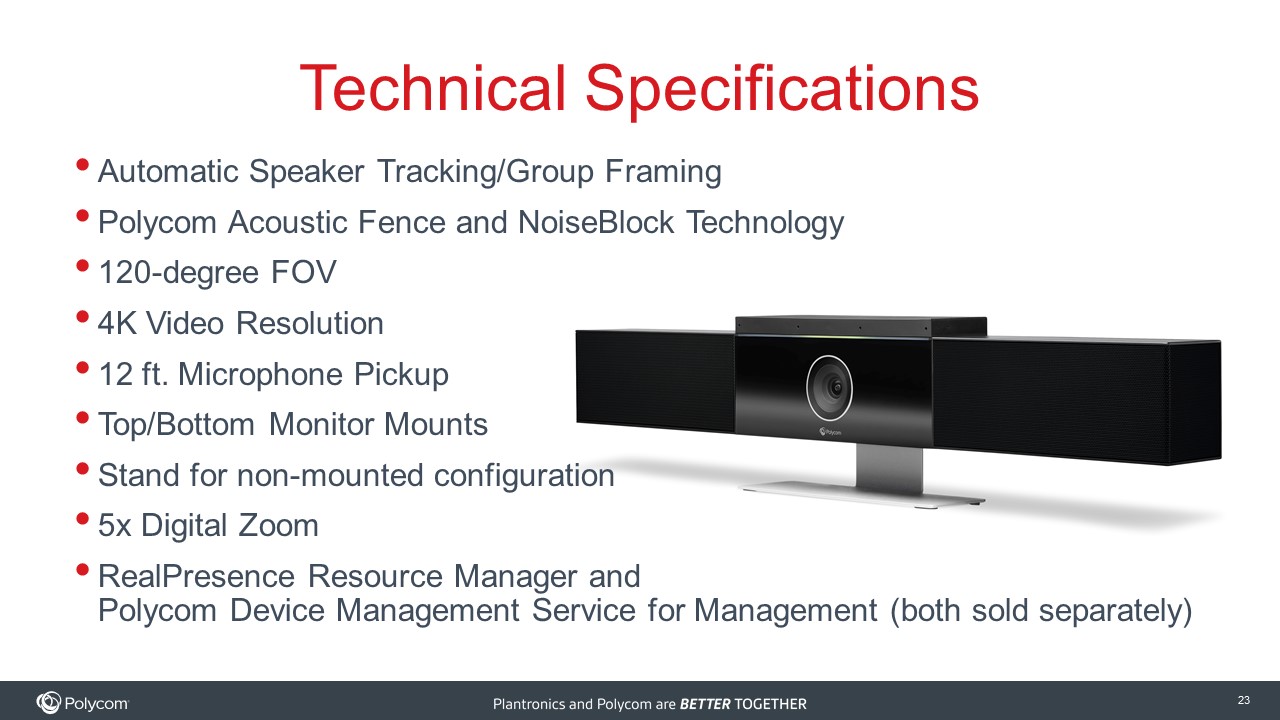 Specifications
120-degree FOV
UHD 2160p (4K) capture resolution
Automatic people framing & speaker tracking
5x zoom / EPTZ
2 camera presets
Poly Acoustic Clarity technology provides full-duplex conversations, acoustic echo cancellation and background noise suppression
Poly NoiseBlock technology
Poly Acoustic Fence technology
Mute/unmute controls

Stereo microphone:
6-element beamforming microphone array
12 ft pickup range
120 Hz–16 kHz frequency response
100 Hz–20 KHz frequency response
Output = 90 dB @ 0.5m
1x USB 3.0 Type-C port (with 2.0 compatibility)
Power connector
Optional external microphone
3.5 mm stereo Audio In
Kensington security lock
802.11ac Wi-Fi wireless networking for manageability; IEEE 802.11a/b/g/n compatible
Bluetooth® 4.2
802.1x support
Certification management
Companion App (running on Win/Mac PC connected to device)
RealPresence Resource Manager
Device Management Service
Operating temperature: 32–104°F (0–40°C)
Relative humidity: 5–95%, noncondensing
Storage temperature: -13–160°F (-25°–70°C)
12VDC/5A @ 100~240VAC, 50/60 Hz
105 mm x 700 mm x 70 mm = 4.2" x 27.3" x 2.8" (HxWxD) without stand
156 mm x 700 mm x 70 mm = 6.2" x 27.3" x 2.8" (HxWxD) with stand
5 lbs 2.6 oz (2342 g) without stand
6 lbs 4.7 oz (2856 g) with stand
Remote control dimensions:
183 mm x 40 mm x 19 mm = 7.2" x 1.6" x .75" (HxWxD)
Package Includes
Poly Studio

Remote control with 2 AAA batteries

Power adapter

5 m USB 2.0 cable (Type-C to Type-A)

Wall mount kit


Setup sheet
Data Sheet

Poly (Polycom) Studio (7200-85830-102) Data Sheet

Video Review

Interested to know we can help you to leverage on IT to improve your business productivity, scalability and profitability?

Contact us now