Description
Polycom® SoundStation® IP 6000
The SoundStation IP 6000 is an advanced IP conference phone that delivers superior
performance for small to midsize conference rooms. With advanced features, broad
SIP interoperability and remarkable voice quality, the SoundStation IP 6000 offers a
price/performance breakthrough for SIP-enabled IP environments.

The SoundStation IP 6000 features Polycom® HD Voice™ technology, boosting
productivity and reducing listener fatigue by turning ordinary conference calls into
crystal-clear interactive conversations. It delivers high-fidelity audio from 220 Hz to
14 kHz, capturing both the deeper lows and higher frequencies of the human voice
for conference calls that sound as natural as being there.

For all conference calls, the SoundStation IP 6000 delivers advanced audio
performance that far exceeds previous generations of conference phones.
From full-duplex technology that eliminates distracting drop-outs to the latest
echo cancellation advancements, only Polycom can deliver a conference phone
experience with no compromises. Plus, Automatic Gain Control intelligently adjusts
the microphone sensitivity based on where participants are seated in the conference
room, making the conversations clearer for all participants. It also features technology
that resists interference from mobile phones and other wireless devices, delivering
clear communications without distractions.
Benefits
Polycom HD Voice – unparalleled clarity to make your conference calls more efficient and productive
Polycom's patented Acoustic Clarity Technology – Deliver the best conference phone experience with no compromises
12-foot microphone pickup – combined with Automatic Gain Control for performance far beyond older SoundStation IP conference phones. Add up to two optional expansion microphones for even greater coverage.
Industry-leading SIP software – leveraging the most advanced SIP endpoint software in the industry, with advanced call handing, security, and provisioning features
Robust interoperability – compatible with a broad array of SIP call platforms to maximize voice quality and feature availability while simplifying management and administration
High-resolution display – enables robust call information and multi-language support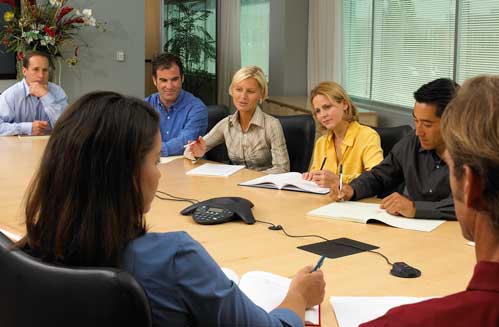 Specifications
IEEE 802.3af Power over Ethernet (built in)
Optional external universal AC power supply: 100-240V, 0.4A, 48V/19W
Size (pixels): 248 x 68 (W x H)
White LED backlight with custom intensity control
Standard 12-key keypad
Context-dependent soft keys: 3
On-hook/Off-hook, redial, mute, volume up/down
Transport Layer Security (TLS)
Encrypted configuration files
Digest authentication
Password login
Support for URL syntax with password for boot server
HTTPS secure provisioning
Support for signed software executables
Operating temperature: 32 - 104 degrees F (0 - 40 degrees C)
Relative humidity: 20%-85% (noncondensing)
Storage temperature: -22 - 131 degrees F (-30 - 55 degrees C)
14.5 x 12.25 x 2.5 in (36.8 x 31.1 x 6.4 cm) (L x W x H)
Data Sheet

SoundStation IP 6000 IP Conference Station (2200-15660-015) Data Sheet

Video Review

Interested to know we can help you to leverage on IT to improve your business productivity, scalability and profitability?

Contact us now