Description
Synology DiskStation DS220j ( Local Warranty in Malaysia )



An easy-to-use private cloud for everyone
DS220j is an entry-level 2-bay NAS designed for home and personal users to store and share photos, videos, and documents. The private cloud solution is powered by the award-winning DiskStation Manager (DSM) OS, providing an intuitive user interface and safe data protection approaches for easy digital asset backups from computers and mobile devices at no additional cost.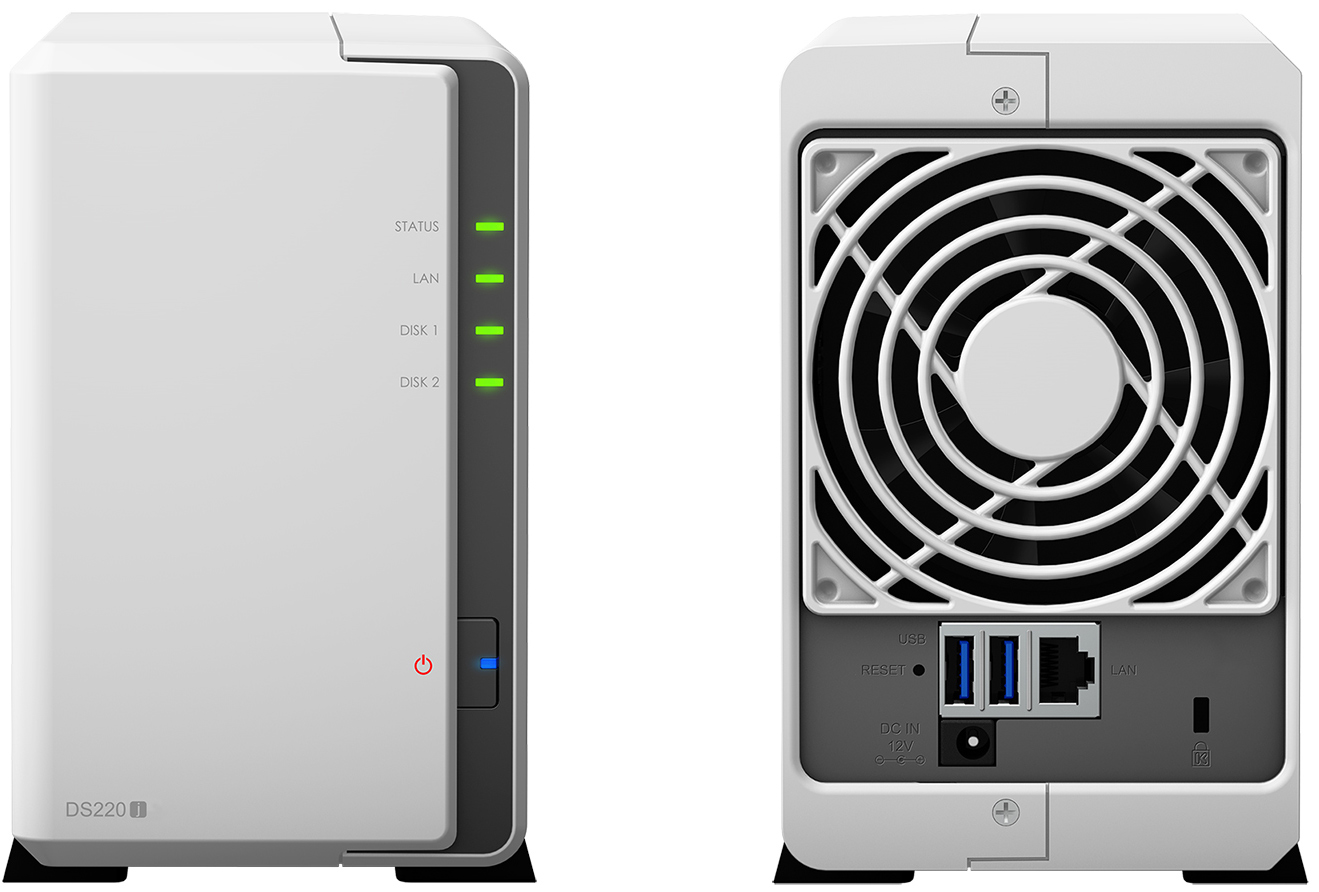 Highlights

• A Simple-to-Use Private Cloud for Everyone
24/7 file server for your household to store, share, and backup personal data
• Easy-to-Use
Award-winning DiskStation Manager (DSM) brings intuitive operation flow and reduces learning curve
• Seamless File Sharing
Access and share data with any Windows®, macOS®, and Linux® computers or mobile devices
• On-the-Fly Streaming
Integrated media server to support multimedia content streaming
• Anytime, Anywhere
Freely access private cloud files on-the-go and back up mobile photos with iOS and Android™ apps
• Data Guardian
Safeguard digital assets with cross-platform computer backup applications
Powered by Synology DiskStation Manager (DSM)
DSM is a web-based operating system that provides private cloud services. It is designed to simplify your daily task management. The multitasking web interface allows you to run multiple applications simultaneously on one browser tab and instantly switch between them. The intuitive DSM allows you to effortlessly configure storage capacity, gives you complete control over your personal cloud, and lets you access
your Synology NAS from anywhere.
The built-in Package Center allows you to download and install the packages designed to satisfy different user needs, such as sharing files on the cloud, sharing photos on an online album, or setting up a VPN environment.Tasks can be done with just a few clicks.

Cross-platform File Sharing and Data Synchronization
Synology DS220j supports comprehensive network protocols, ensuring a seamless file sharing experience across Windows®, macOS® and Linux® platforms. Cloud Sync keeps your Dropbox, Google™ Drive, Microsoft® OneDrive, Baidu, and Box storage in sync with your personal DiskStation at home. Synology Drive allows you to synchronize files across different computer and mobile platforms, effortlessly keeping everything up-todate. DS220j combines seamless file sharing capability with a high level of security, including HTTPS support, a built-in firewall, and multiple IP and account intrusion auto-blocking mechanisms.
Available Anytime and Anywhere
Synology provides mobile applications for you to enjoy your multimedia library anytime and anywhere. Available on iOS and Android™ platforms, DS photo, DS audio, DS video, and DS file allow access to your Synology NAS respectively through Photo Station, Audio Station, Video Station, and File Station. QuickConnect allows connection to your Synology NAS via a secure and customizable address, so that you can instantly access media and work files.
Easy Backup Solutions
Synology Hyper Backup provides multi-version backup with block-level incremental backup and cross-version deduplication. It optimizes storage utilization and allows data to be backed up to multiple destinations such as local shared folders, external hard drives, network shared folders, rsync servers, and public cloud services.
Synology Drive Client provides real-time or scheduled backup of important folders of your computers to prevent accidental deletion and ransomware threats.
Hardware Overview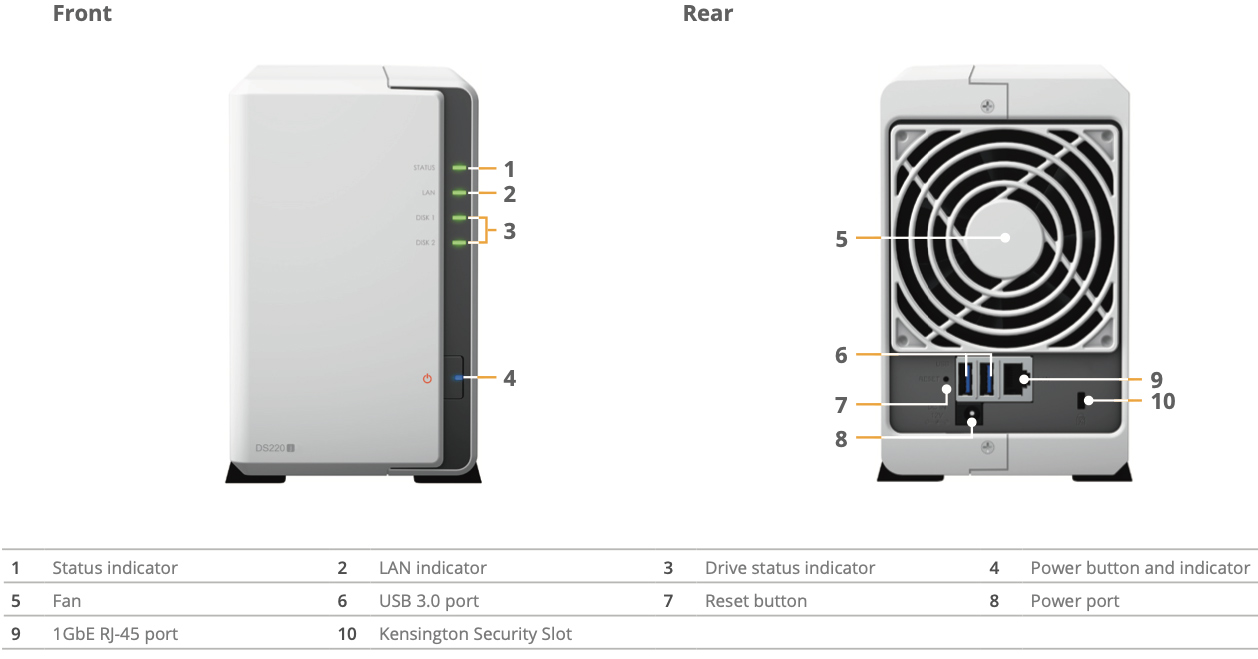 Hardware Specification
CPU Model
Realtek RTD1296
CPU Architecture
64-bit
CPU Frequency
Quad Core 1.4 GHz
Hardware Encryption Engine
Yes
System Memory
512 MB DDR4
Storage
Drive Bays
2
Compatible Drive Type
3.5″ SATA HDD 2.5″ SATA HDD 2.5″ SATA SSD
Maximum Internal Raw Capacity
32 TB (16 TB drive x 2) (Capacity may vary by RAID types)
Maximum Single Volume Size
108 TB
Hot-Swappable Drive
Yes
External Ports
RJ-45 1GbE LAN Port
1
USB 3.0 Port
2
File System
Internal Drives
EXT4
External Drives
EXT4

 

EXT3

 

FAT

 

NTFS

 

HFS+

 

exFAT
Physical
Size (Height x Width x Depth)
165 mm x 100 mm x 225.5 mm
Weight
0.88 kg
System Fan
92 mm x 92 mm x 1 pcs
Power
Power Supply Unit / Adapter
60W
AC Input Power Voltage
100 V to 240 V AC
Power Frequency
50/60 Hz, Single Phase
Power Consumption
12.46 W (Access)

 

5.06 W (HDD Hibernation)
British Thermal Unit
45.52 BTU/hr (Access)

 

17.27 BTU/hr (HDD Hibernation)
Temperature
Operating Temperature
0°C to 40°C (32°F to 104°F)
Storage Temperature
-20°C to 60°C (-5°F to 140°F)
Relative Humidity
5% to 95% RH
Warranty
2 Years
Data Sheet

Synology DiskStation DS220j Data Sheet

Video Revierw

You may also visit our online shop www.winpro.com.my

PS : Price above not included hard disk
       All Store B2B order 3-4 weeks